Technology witnessed a dramatic rise in the last decade and by no means, the logistics industry is any different than others, especially with the inventory and warehouse management solutions offering insightful data, real-time analytics, tracking features, and a ton of other tech-driven features that automate and simplify the fulfillment process. Along with the technology, the pandemic also played a huge part in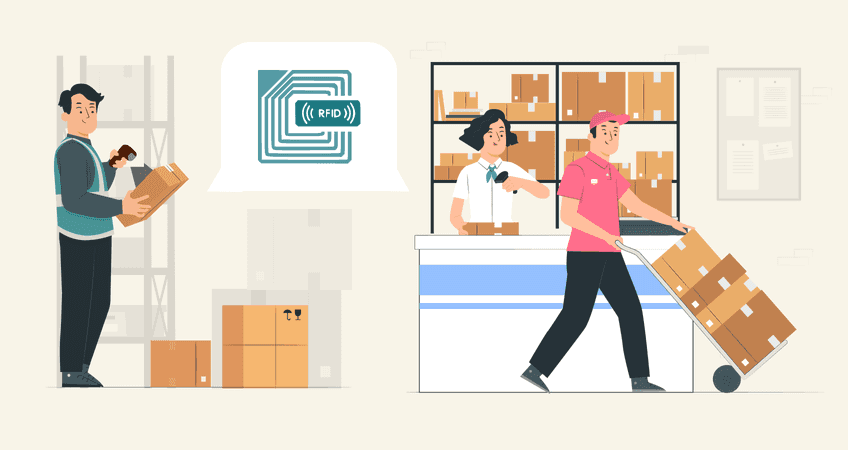 What a warehouse used to be a decade ago is totally different from what it is now. Today, warehouses are much more than just a godown to store inventory.
The ever-changing customer demands and the day-by-day increasing pressures from competitors have compelled enterprises that use mortar-and-brick methods to digitize their businesses and become more efficient and informed.
Earlier, businesses stored their inventory in huge warehouses and created a process to filter, store, retrieve, and ship products as and when required. However, this whole scenario in the industry changed due to the demand for a better and higher level of service.
And the manual and the decade-old processes created supply chain issues and a series of challenges for both the online sellers and logistics companies.
Now, almost every business has realized the fact that smart RFID-based solutions enhance and streamline operations, enabling enterprises to make informed business decisions, and are essential to improving inbound logistics.
Challenges traditional warehouses are facing
Longer turnaround times for picking and packing processes.
Employees have to manually receive and record data into ERP systems. Tha makes inbound logistics management slow and puts more burden on the shoulders of the employee.
Possible chances of incorrect inventory data in the ERP systems compared to the actual inventory in the warehouse.
Lack of real-time inventory data during the in-transit time.
Delay in receiving dispatched inventory data from the warehouse
Lack of efficient utilization of the warehouse space due to the absence of information about space allocation
Incorrect order/shipment/delay likely to affect your business and inbound logistics management
Let's think a step ahead in this tech game. What if your warehouse directly communicates low inventory and picks products for you? What if your warehouse maintains just the right amount of inventory throughout the year? You might think this is future-tech but that future is already here.
What is an RFID-based warehouse management solution?
First things first, RFID stands for Radio Frequency Identification. It is a system that transmits identity in the form of a unique serial number of an item wirelessly.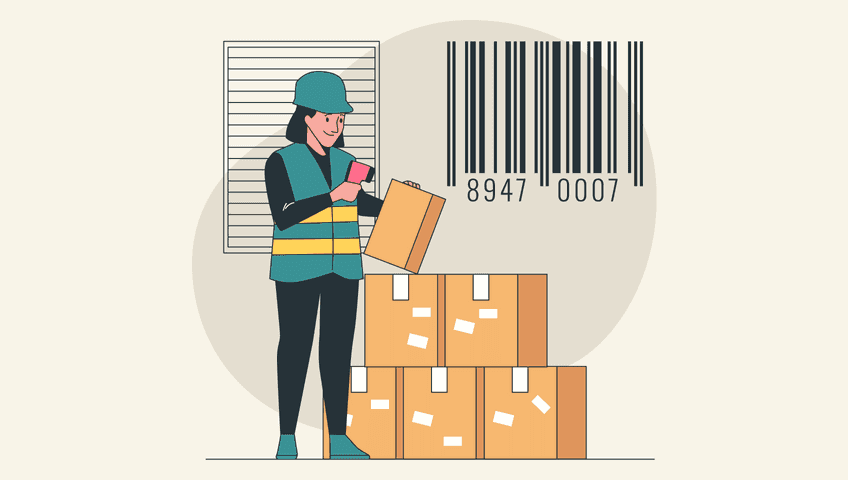 In other terms, RFID is an auto-ID technology that is utilized to minimize time and resources and increase real-time data accuracy.
How does it work?
Basically, there are two types of RFID systems. One is active and the other is passive. In an active system, the RFID transmitters, a microchip with an antenna, are tagged on all items so that the employees can track and access information via a reader to transfer the information into a PC or laptop.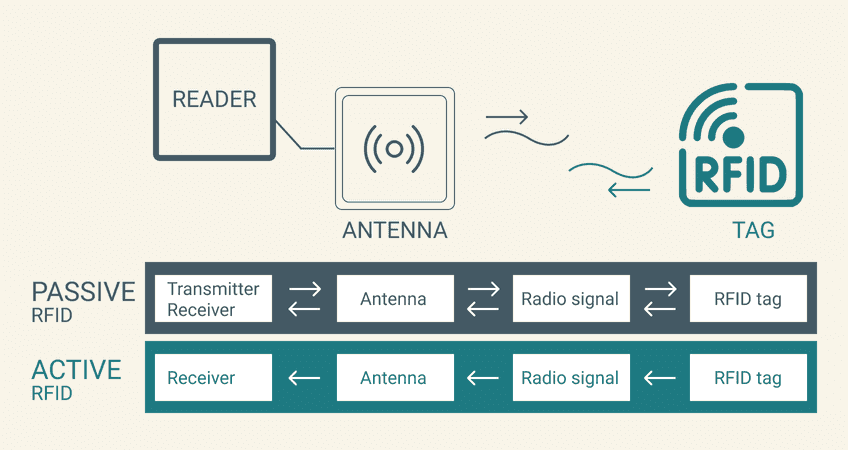 Such active RFID tags are mostly utilized for huge products such as cargo containers, rail cars, and other similar containers that are shipped to other cities or countries. On the other hand, passive RFID tags lack microchips and just reflect those radio waves that come from the reader antenna.
Also, they do not have power sources and transmitters, need no maintenance, and are actually quite less expensive when compared to active RFID tags.
Businesses that are in the logistics industry use both active and passive RFID systems to track items throughout the supply chain to get better visibility of products in real-time. Integrated with GPS technology, products can be easily tracked even during transit. This kind of smart technology will help you minimize theft as you will be able to track them across the supply chain and will make your inbound logistics management smart.
How to leverage a smart RFID-based warehouse management software?
One of the most common costs that contribute to your warehousing expenditure is labor costs. As your business expands and grows, you hire more manual labor and that's unavoidable.
You can only minimize labor costs and hire a few people when you start leveraging automation. There are already some smart warehouses that have started using technology to automate labor-intensive, time-consuming processes so that their employees can spend their time on better and more productive activities, resulting in reduced labor costs.
One more reason why businesses are lured toward tech-savvy warehouses and methods is to minimize human error. No matter how thorough you or your employees are, there would be picking errors now and then and this could result in additional costs for returns, refunds, lost sales, and customer service.
Again, such pick and pack human mistakes could account for at least 12% on an average which is why it is extremely crucial to adopt IoT and automation practices. In addition, robotics could do faster and more accurate picking and assist in ensuring the orders are shipped to the right address and location.
Fewer inaccuracies and less inventory damage
Damaged products are entirely another expense that your business has to bear when you are utilizing human labor. No matter how experienced your employees are, a legacy outbound logistics management cannot help you eliminate damage risks completely, but you can significantly;y reduce them through smart warehouses as they leverage technology.
WMS, robots, and RFID work hand-in-hand to ensure they identify every single product and determine the best and fastest transportation routes. In addition to that, robots can carry heftier products without causing any damage, making sure that your items are safely shipped from the inventory to your product packing team. And this makes your outbound logistics management smart and reliable.
Better analytics & reporting
Especially in the procurement industry, not only do analytics and reporting assist you with optimizing inventory management, but they also help you identify hidden problems in your supply chain management.
With such accurate and detailed analytics, your team will easily be able to find the places where more errors or damages take place and identify solutions.
In addition, with the RFID warehouse management system, you can seamlessly get real-time inventory data and detailed analysis trends to promote accurate demand forecasting from your WMS. The whole process will assist your business to be ready for sudden demand surges and avoid overstocking.
One more thing that can significantly assist you in optimizing your inventory management is analytics and reporting. They can also help your team find and identify problems seamlessly in your supply chain. With precise and accurate analytics, you can effortlessly identify where errors/damages occur, and find the root of the issues.
Quicker Shipping
Apart from the product or service quality, your customers will remember the way you made them feel. Good or bad, your customers will remember the conversation forever. In other words, customer experience is everything.
Of all, providing faster shipping will especially help eCommerce businesses stay one step ahead of their competition. Sadly, warehouse picking can get as long as possible, and this case is true if the warehouse team has to navigate a huge, not so well-organized facility.
In such cases, smart warehouse management systems help expedite the picking process and streamline product tracking and reporting to further speed up the fulfillment process, resulting in quicker shipping. Also, having a tech-enabled system will minimize order inaccuracies and damages, resulting in fewer product returns.
Efficient warehouse space utilization & optimization
Efficiently using the warehouse space is not as easy as said since it involves numerous considerations. RFID-based smart warehouse management systems utilize inventory tracking to make sure the inventory is maintained by avoiding overstocking and letting retailers deadweight products.
In addition to that, smart warehouses are efficient only when the inventory is correctly organized. Therefore, to make sure your warehouse runs at its optimum, it is essential to plan and execute a strategy that makes the retrieval and storage process easy and simple.
Predictive order processing
What does predictive order processing mean? Well, predictive order processing utilizes technology and automation to provide a better and improved customer experience.
Gone are the days when supply chain management processes used to be analog, but now next-gen, cutting-edge technologies are used to observe purchasing patterns, latest trends, order history, and other related data to analyze and predict products before customers even place the order.
Lower costs = Lower prices
When it comes to customer satisfaction, nothing can beat offering lower prices. It is one of the effective ways to attract your target audiences to your brand and outperform your peers.
With the help of a smart warehouse, businesses can greatly minimize warehousing expenses by leveraging technology, automation, and downsizing damages and errors. By ensuring you are not hitting your bottom line, you can offer the best and lowest price for your customers.
Final thoughts
Technology in every industry across the globe is growing at a rapid pace. To keep up with the rest of the players in the market, your warehouses are required to be equipped with smart solutions like RFID that let you and your team meet the demands of your target audiences and business partners.
Instead of going for a whole warehouse management solution redesign, you can choose to execute the right and smart warehouse solutions that will empower you to accomplish the efficiencies and cost savings you require.