The total revenue from online shopping is expected to exceed $563 billion in the US by 2025. Ecommerce retailers may find it difficult to manage the influx of orders. The rising consumer expectations of faster delivery and real-time tracking require these merchants to adopt technology to enable growth.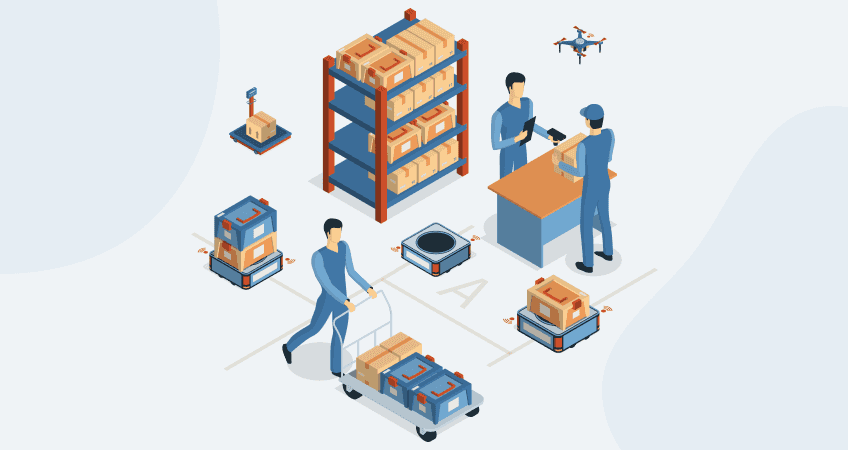 The key to operating a successful business is to function in a way that reduces the time between when a consumer or retail outlet requests the goods and when it is delivered to their location. Having a Warehouse Management System (WMS) holds the key.
What is a Warehouse Management System?
WMS is software to assist you in regularly managing your warehouse. The programme supervises staff to ensure everyone works efficiently and keeps track of inventory and stock rotation.
You may track everything in your warehouse online, from available quantity to delivery commitments and even carriers transporting your goods. A robust warehouse management solution can boost warehouse productivity and reduce errors.
Here are several indicators that a warehouse management system is necessary for your business:
Disorganized warehouse
You are not alone if your warehouse is a mess. One of the reasons many businesses fail is unorganized warehouses. A poorly managed warehouse increases the risk of the merchandise being lost, damaged, or misdirected, among other things.
In addition, it can endanger the security of your staff. All the items will be where they belong if they are properly organized with a warehouse management system.
Making it simpler for your employees to locate the items needed for each shipment increases efficiency. It will be daunting to keep up with the shipping process if your staff finds it difficult to locate the items they require to complete orders. A WMS helps streamline the process from beginning to end.
No space is left in the warehouse
The initial thought for most firms when their warehouse is out of the room is to hunt for larger warehouse space. While it might be required in some circumstances, it might not always be the best choice. Moving to a larger location requires time and money, which firms like to avoid spending.
Top warehouse management software can help streamline the operational process, better organize your environment, and maximize the use of available space. You can handle your space concerns and improve organization, as previously said, shipping logistics, order management, and administration of goods in the warehouse.
Inaccuracy in stock numbers and inventory
A human mistake at the human mistakes can be done while counting inventory, managing stock in-out and damage or finding missing quantity. Since accurate figures are crucial, this is frequently a hint that you need an inventory management system.
Furthermore, not keeping track of inventory would run you out of certain products without knowing it. Due to this, you won't be able to predict what else to produce or purchase to keep your stock at the right levels that satisfy client demand. Therefore, choose the best WMS software for your business that helps eliminate such issues.
Discrepancies in order fulfillment
Orders must be appropriately assembled in your warehouse. Due to inaccurate, missing, or damaged things, wrong shipments waste time and resources, lowering efficiency. Although human error is still possible, quality inspections at the selection, packing, and shipment stages can help alleviate this issue.
One of the key responsibilities of warehouse management systems is to bring your attention to consumer concerns about incomplete orders, missing items, broken goods, and others. These issues can be considerably reduced by using the right warehouse management system.
High turnover rate with unsatisfied employees
Your employees have larger tasks due to an inefficient workplace. This can lead to employee dissatisfaction at work to ultimately quitting the organization if they need to work tirelessly without the right resources.
Any company that wants to succeed and expand must employ the appropriate procedures and tools at each stage. The warehouse is included in this. Spend some time locating a top-notch warehouse management system that can put your business back on track.
How to choose a good WMS?
A WMS (warehouse management system) is more than just an inventory management system and a tool for data collecting; it is not a fast cure. It is a solution that aids in fully automating your warehouse operations.
Justification for IT initiatives should follow the same guidelines as for any other company expenditure. Since a WMS functions primarily as a tactical execution system, it is simpler to justify than many IT initiatives. Although tactical, it is a crucial part of strategic company improvement. To begin, here are some tips for choosing WMS.
Look into ROI and requirements
Supply chain providers should identify their needs and include the expenses related to those requirements to correctly decide the return on investment for a WMS. Project managers may quickly and readily predict when the ROI will become positive, even when picking specific providers.
Even though different WMSs provide various services, including customer service, logistic management, inventory monitoring, etc., it is crucial to pick one compatible with your organization's needs.
At this stage, budget restrictions also apply. And the least-priced tier-3 supply chain management solutions offer fundamental tracking functions like ordered, packed, sent, and received. Additional features like restocking, job direction, optimization, and minimal reporting may be included in a higher-level tier-2 system.
Tier-1 systems provide comprehensive, complex order flow controls, quick turnaround times regardless of transaction volume, forecasting capabilities, and labour resource allocation. These systems also offer more sophisticated reporting, including information on the condition of the warehouse floor, among other things.
Assess your system
Analyze the process of your warehouse and identify the challenges and problems you face which can be resolved with a WMS.
You could want to concentrate on the WMS offered by the firm that makes the automation systems for your warehouse, whether it has cranes, conveyors, or sortation systems. With the help of WMS (warehouse management system), your business processes will be smoother and easier.
Ask for related insights
Having a vendor list as broad as feasible is ideal for choosing the right warehouse management system. Consider the time to value, as it might take a month or even a year to see the required ROI after implementing the WMS. Think of how quickly your preferred WMS software offers to achieve the ROI objective.
Firstly, request all the company details. Know what features are supported by the software, the training services offered, the anticipated cost of the WMS software, the cost of training, any additional adjustable capabilities, and support for any third-party interfaces are just a few examples of the data to include.
Evaluate vendor expertise, advancements and developmental offerings
The WMS industry's package structure is rarely viable for in-house development and support. You can assess your supplier's performance and look for inefficiencies or opportunities for future expansion.
Define WMS vendor Key Performance Indicators (KPIs) and metrics that pivot to corporate goals and consider flag metrics to highlight when a vendor fails to fulfill criteria. Overcome the common challenges in warehouse management by grading and reviewing your WMS supplier based on the time taken, solution quality, software usability, etc.
Set up your budget
Ask the supplier for an actual project cost that considers any variable costs. Any functional holes that have been identified should also be described and valued at this point. It will be useful to do a detailed needs analysis or gap analysis.
Although this service has a fee, it drives project success. The connections you create with suppliers' reference sites come in handy at this point since you'll be able to inquire with them about how effectively the supplier kept to the set budget and deadlines.
Analyze WMS features
Consider the specific functional needs of your company when choosing a WMS, and ensure the features you want are included. While choosing a solution, having the WMS feature checklist available might help prevent leaving out important functions. An effective warehouse management system should have the following features.
Real-time data syncing
Lack of real-time visibility is one of warehouse managers' greatest issues. Many warehouse managers think that one of the key things contributing to making bad decisions is a lack of timely and accurate visibility of activities. Modern warehouses need to continuously and instantly enter data from many data points.
Operational activities, quality assurance, hardware and robotics, and software connections like ERPs, shipping management systems, and e-commerce platforms are all included in this. This calls for current information on all orders, real-time inventory reconciliation, shipment status, and a log of all actions taken concerning a specific order.
Access to the cloud
Based on user responsibilities and permissions, all pertinent workers must have immediate access to useful data, whether working remotely, in different time zones or confined to their homes due to an emergency. Users may get real-time information with this access while on the go.
Anyone with a browser should access proper WMS software, and you'll even be able to provide staff with standardized mobile applications for quick and simple processing.
Easy to use
A WMS should be easy to use without compromising any sophisticated features. Ensure it offers better usability by inspecting the UI and related tools. An interactive UI-based WMS should add value to management personnel.
Picking and packing
Picking lists might be difficult to make. You may quickly sort and print lists using WMS, for instance, by bin location, order date, or SKU. Workers can be directed to the exact location of the merchandise using voice commands or mobile devices.
If any items need to be picked up, the best route and the required gear will be suggested to cut down on trip time. Scanners for barcodes or RFID make sure the right goods are bought.
WMS offers the right packing strategy, and the kind and quantity of packaging are automatically selected for each order. You need not put requirements manually or provide input addresses or retype tracking numbers because shipping labels, price tags, logos, bills of ladings, and other necessary papers are generated directly from the system.
Additionally, quality control is simplified because staff members have accurate knowledge of each item's specifications.
Sleek order management
A warehouse management system must have an optimized order and fulfillment procedure. By controlling the movement of goods through your warehouse, a WMS may assist you in managing orders more successfully.
Certain WMS include carrier network access, which may greatly enhance shipping processes. As automated integration spreads, warehouse managers can reduce time-consuming human data input tasks.
Robotics, artificial intelligence, and machine learning-based warehouse management systems may greatly increase productivity and speed. Picking robots can identify and transport items without requiring employees to run back and forth between products and shipping facilities. Additionally, conveyor systems may move items across a warehouse straight to shipment without involving a person.
Inventory management
A smart RFID-enabled warehouse management solution can improve your inventory process. It can maintain inventory data through barcode scanners and radio frequency identification (RFID) tags, automatically updating the dashboard's content so that anybody with access can easily view the most recent data. It also helps to ensure that things are easy to find when moving.
WMS manages cross-docking, cycle counting, and other inventory-related procedures. Cycle counting is made easier by a strong WMS that suggests goods to count and their locations and modifies the ERP system as necessary.
Analytics
The best warehouse management solutions offer various features that help firms integrate business intelligence from warehouse operations. Real-time tracking has several advantages for businesses, particularly regarding inventory control.
You may see your inventory levels in real-time to always know whether you have too much or too little of a certain item.
For KPI analysis, other features can filter the data and indicate areas that need improvement. Monitoring warehouse activity through workflow management in a WMS necessitates additional focus. High-quality data collection helps decision-makers decide whether to change important business practices and plans.
Make a shortlist
In this case, in addition to the primary criteria of fulfilling your particular requirements, suppliers' dedication, robustness, and dependability in sustaining a cognitive relationship are significant considerations.
Shortlisting the top 5 to 10 suppliers is possible using various criteria, including cost quoted, expertise, development, and quality, to mention a few.
Viewing a software demo and being familiar with the features it covers are smart ways to choose the finest WMS. This will allow your company to adjust its real-time data, examine and test various services, look for flaws or places that don't match your needs, add necessary integrations, and collaborate with the vendor to have things changed as and when necessary.
Make final choice
Compare the responses from various suppliers about their offerings. Similar to how order management is done? What do the picking, packing, and shipment procedures entail or any additional difficulties the warehouse may face?
Mull over the following factors:
Scope of the project
Every small or medium-sized firm aspires to grow, which raises the demand for a reliable warehouse management system. WMS is often more advantageous when handling several processes and larger operations simultaneously.
The complexity of controlling inventory expands along with other business activities like billing, product distribution, etc., as a company's size grows, necessitating the use of a proper WMS.
A system like this enables visibility of inventory, storage capacity, expiration dates for products and materials, sales, and customer service. With a suitable WMS in place, it is simple to analyze changes in the existing process, look at shipments, and verify the number of orders.
Implementation
The usage and breadth of a vendor with a WMS that can pinpoint activities directly to remedy issues and examine specifics on a line-by-line basis have increased.
Additionally, a vendor could have tried-and-true approaches, but implementation should be done to the needs so that the system can offer the best answer. When a business expands, the ideal WMS should be able to scale up and deliver timely solutions as needed.
Resources working on the project
Businesses would desire a simplified structure in an ideal world so that all warehouse activities could be managed smoothly. Using an enterprise resource planning (ERP) system from one vendor and a WMS from another might be problematic.
However, every programme has a certain function, and every organizational unit has preferences and purchase strategies. Therefore, the applicant WMS's capacity for enterprise-wide integration is crucial.
Cost and timeline
Compare the software offered by several suppliers, adding up all of their capabilities to fulfill your business needs in addition to price, software license, training, support, and maintenance costs.
When analyzing costs, don't forget about the price of yearly software maintenance. A system can cost $250,000, but it also needs to be kept up to date annually, which adds to the expense.
The Warehouse Management System's standard deployment normally takes 4 to 6 months. The organization's size, the number of warehouse locations, the kind of system integration, and the number of solution upgrades significantly impact the timeframe.
Support and maintenance
Support is one of the most crucial factors when buying WMS software. Customer service was neglected for a long time. Today, it is a key characteristic that distinguishes businesses. Successful vendors know how important word-of-mouth marketing is and how one encounter may make or ruin a company.
Start by examining the degree of support and maintenance a vendor is willing to deliver before, during, and immediately following product installation to comprehend the provider's support model.
Database configuration
Data is significant, but so is how they are presented. Metrics that help you monitor the effectiveness of your warehouse operations are one thing, but being able to interpret the data is quite another.
A good WMS should make it simple to make the reports and graphs you need to understand how your warehouse is doing. You should invest in a WMS that assesses each employee's performance concerning speed and accuracy criteria.
Integration with ERP
One of the initial tasks you should think about is ERP integration. What types of data are transferred or can be transferred between your back-office software and the WMS? Each time an inventory change affects your accounting, you should consider this.
You may set off automated journal creation and inventory value changes if you pick a WMS solution integrated with your ERP system.
Your vendor should give a 100% integrated WMS system, where the WMS shares the same database and workflow as your ERP solution, for a coordinated approach throughout your firm. Finally, you want to think about an ERP solution that is tough and dependable and offers real-time updates to keep you linked and informed.
How many problems are solved
You must look into how many problems are solved by having WMS. Warehouse issues can all impact the speed, efficiency, and productivity of a specific warehouse activity and the full network of related procedures. Most often, these mistakes aren't discovered until after the procedure has started or even after it has ended.
It's typically too late to correct the mistake at that point, and it can even be too late to lessen the harm done. However, if you are aware of the various problems that could arise in your warehouse operation, you can anticipate them and prevent harm from happening in the first place.
Select the WMS supplier that is best for your warehouse. Use the metrics while accounting for the numerous factors you have examined.
How can WMS help?
A warehouse management system may help manufacturers, merchants, and other companies who need to monitor what's happening in warehouses and other facilities. These tools are beneficial, from helping you see your inventory levels to figuring out how to streamline the warehouse stocking procedure. That makes firms run more effectively, frequently to the advantage of staff, clients, and the bottom line.
Inventory control management
A WMS frequently contains real-time inventory tracking features that assist staff members in knowing what is in stock and where it is. A business is less likely to be taken off guard if an item runs out of supply this way. Ideally, personnel can see the requirement for a fresh order and place it in time to replace inventories.
Customer service & tracking
With a WMS, inventory paperwork may be eliminated, allowing for the electronic maintenance of reports, picking tickets, and packing lists. Processes from purchase through delivery may be streamlined to evaluate product availability better, provide customers with more realistic delivery dates, lower customer complaints, and improve overall customer service.
Using lot, batch, and serial numbers, WMS will make it easier for your business to track down inventory goods with the features of a batch, lot and serial numbers. Serial numbers can help you get an item, whereas batch & lot numbers will recognize the batch in which the materials were manufactured.
Increased productivity
When operations run well, workers are happier with their workplace. This notion is especially valid when employees observe bosses trying to manage their time effectively. Less stress and increased profitability and production enhance employee morale & productivity, especially in warehouses that provide Christmas incentives.
Return on investment
Finally, there are several ways a WMS might help you save money. When waste is reduced, less money is spent on things that aren't sold. By avoiding the need to resubmit an order to a client, you may cut shipping costs and thereby save money by minimizing mistakes. By cutting down all these additional costs, WMS can give your business a better ROI in the future.
Effective labor
Considering employees' skill levels, location within the warehouse, equipment, and available warehouse jobs, a warehouse management system may more effectively assign the appropriate assignment to the right people at the right time.
The WMS may help employees be directed to the jobs with the biggest impact while determining the best laborer for the position. The technology can effectively create schedules using workforce projections and allocate jobs regularly.
The necessity for double-checking may be eliminated, which can help you save time. The recording process can be accelerated by scanning items as they enter a warehouse and move through it.
Scanning improves customer service by reducing incorrect picks and increasing pick accuracy. A proper job assignment increases labor productivity, operational cost, and space productivity.
Optimize space and lower operating expenses
Your WMS can help determine the reasonable use of floor space based on workload and material characteristics that enhance warehouse flow. The optimal way to use space is determined using floor space analysis in WMS setups.
It offers opportunities for waste reduction by reducing time spent looking for products and wasting expensive floor space.
When employing an improved WMS, excessive material movement, time-consuming placement, and retrieval will all be decreased. A WMS may save operating expenses by determining the best places to keep goods, supplies, and equipment.
A well-designed WMS lowers operational costs in several different ways. This technology calculates how to use labor and space most efficiently to reduce waste. To manage the flow of your warehouse, WMS software can assist you in deciding where to store specific resources, goods, and pieces of machinery.
Continuous process optimization
It will be possible for you to easily optimize your warehouse procedures if you choose the right WMS for your company. That entails identifying the best procedures for your company's operational needs and the products you handle.
These factors may be used to pick material in various ways, and an intelligent WMS selection will let you use wave, zone, and batch-picking algorithms, among others.
A quality warehouse management system should be adaptable regarding input techniques, handling barcodes, RFID, or smart scales with equal proficiency and collaboration with equipment automation.
Your team's workload for outbound shipments is reduced through process automation, freeing them up to handle the more unpredictable parts of incoming freight and any frequent problems within the company.
Final thoughts
One size does not fit all when it comes to WMSs, so if you're in the contemplation stage of choosing one, be sure the system has the necessary capabilities for your needs.
The best option should complement your company's culture and business strategy while giving you the creativity, functionality, and adaptability you need to expand and succeed.