Due to current technological advancements, many warehouses have outgrown their antiquated, manual operations. Barcodes and RFID are two different technologies, and they have been used to update existing data entry processes and boost productivity, In other terms, to improve current processes as efficient warehouse management solutions. Even though the two systems have comparable functionalities, they operate differently in modern warehouses.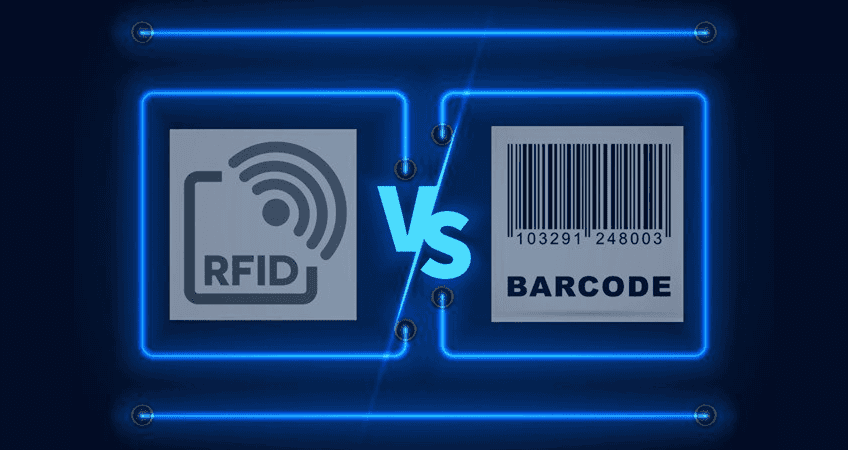 These technologies are used in various sectors, including manufacturing, transportation, retail, and apparel. Every day, an organization makes several decisions to save costs and boost output.
Therefore, picking technology that works well for your firm is vital. You must be aware of the key distinctions between RFID and barcode for your business to run smoothly and maximize your return on investment.
What is RFID?
The term RFID refers to radio-frequency identification, a technology that transmits data from RFID tags to an RFID reader through radio waves. A sensor connected to an antenna within a title allows data to be transferred to the reader.
A reader may scan more than 100 tags at once without needing a line of sight and often incorporates unique identification in each sensor. This makes it simple to automate activities that might otherwise require additional time and money and are prone to human mistakes.
What is Barcode?
A laser beam is used in barcode scanning to read the barcode's black and white lines. The scanner has a sensor that utilizes the imaged light to develop a signal, which is then transformed into text by a decoder and sent to a computer or database. To collect the data, barcode scanners need a line of sight and must see each barcode individually.
Uses of RFID in warehouse
RFID transmits information across the air by utilizing waves. Through its antenna, a tiny chip is powered by the waves, and the chip's integrated data chip then saves the data. The information on the chip can then be read by scanning the tag using a reader, also known as an interrogator, and reading it.
Passive and active RFID tags are available. A direct power source is not necessary for passive tags. However, passive chips continuously push data to the read, and active tags require a natural power source, such as a battery.
Uses of barcode in warehouse
A scanner reads a label with black bars of varying width to decode a barcode. Each barcode component includes a black bar with varying widths to form a character or number. The reader can read the value and recognize the pattern when used together.
Laser barcode scanners can read barcodes more quickly and precisely than CCD barcode scanners. CCD barcode scanners read barcodes more slowly than laser scanners and are likelier to miss one of the labels marked or damaged.
What is the difference between Barcode and RFID?
RFID is readable through objects. On the other hand, line of sight is a must for a barcode.
Compared to RFID, barcodes are significantly more affordable. However, RFID can read data from a greater distance.
Barcodes can only read data, while RFID can read and write data.
While barcode scanners require a line of sight to scan each code individually, RFID scanners can read multiple codes at once.
Since barcodes cannot scan several items simultaneously, whereas, RFID can. Also, you won't have to worry about a mistaken scan as the tag will be unique.
The history of maintenance, expiration date, and other information can also be stored through RFID.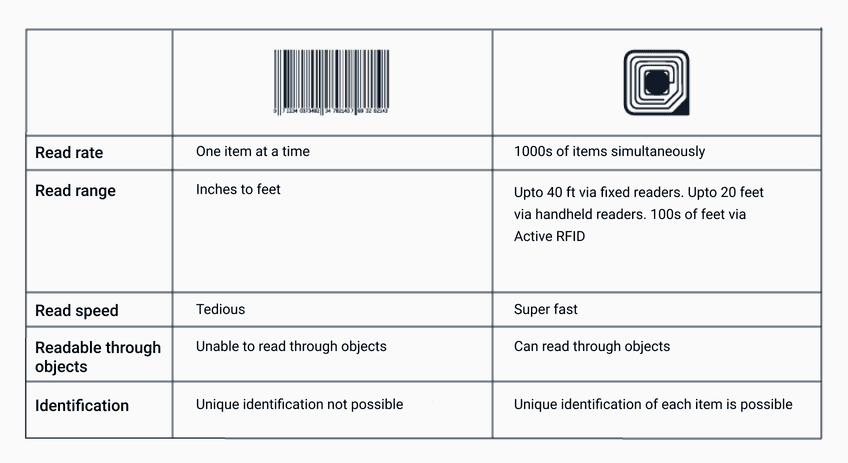 Types of RFID
Low-frequency RFID
The read range of these RFID devices, ranging from 30 kHz to 300 kHz, is up to 10 cm. They work better in the presence of metal or liquids, with a smaller read range and slower data read rate than other technologies.
ISO/IEC 18000-2 and ISO/IEC 14223 are two widely used LF RFID standards. In these applications, limited read range is allowed, such as access control and livestock tracking, and LF tags are employed.
High-frequency RFID
HF systems offer reading distances of 10 cm to 1 m and operate in the frequency range of 3 MHz to 30 MHz. Electronic payment, ticketing, and data transfer are frequent applications.
Payment cards and hotel key cards have employed applications based on Near Field Communication technology. They may utilize HF technologies and there are several smart card and proximity card payment and security systems.
Ultra-high frequency RFID
These systems have quicker data transfer speeds, read ranges up to 12 m, and a frequency range of 300 MHz to 3 GHz. Although recent design advances have helped alleviate some of these issues, they are more susceptible to interference by metals, liquids, and electromagnetic signals.
They are frequently used in applications like pharmaceutical anti-counterfeiting, retail inventory tracking, warehouse industry, and other uses that call for many tags.
Types of Barcode
Code 39
Characters and numbers may both be used in Code 39. Its name was derived from the fact that it could only encode about 39 characters. However, that number has now risen to 43. The American Department of Defense and the auto industry are where it is most frequently employed.
Code 128
More recently, this barcode was developed. It enables the usage of various characters by encoding numbers, letters, and pronunciation marks. The ASCII 128 character set's feelings can be encoded using it.
It can hold practically any data type, making it a strong barcode. It is mostly employed in transportation, logistics, and order distribution.
Interleaved 2 of 5
Code 2 of 5 is a numeric-only barcode that encrypts pairs of numbers and is frequently seen in manufacturing, distribution, and warehouse settings. Each pair of two digits together forms a single symbol.
Because this design needs an even numeral of numbers, zero is continually appended to the back of an abnormal collection of integers
Universal Product Codes
Most people are familiar with the Universal Product Code format. The 12-digit UPC-A code contains the number issued to that particular unique product and the UPC corporate prefix.
These barcodes can be used by any business and are primarily used in retail to identify products. They are perfect for encoding a small quantity of information.
International Article Number (EAN)
Outside of the US, these barcodes are typically utilized. They can frequently be seen on consumer goods like groceries, shoes, and clothing and are scanned at the point of sale. EAN-13 uses 13 digits, while EAN-8 uses only 8. The latter is particularly helpful for scanning items with limited label space.
PDF417
A start and stop pattern is sandwiched between 3 to 90 rows that make up the PDF417 barcode. Even though the PDF417 barcode has properties common to two-dimensional barcodes, it can still be read by a straightforward linear barcode reader.
Commercial and governmental entities are the main users of PDF417 codes, and these barcodes are ideal for encoding a lot of data.
Data Matrix
Data Matrix barcodes are comparable to QR codes in that they are quick to read and have high fault tolerance. They stand out because of their prowess with small items they can name. Data Matrix codes are very scalable, and you can download software to read them on your phone. As a result, they are extensively used by the electronics sector and in the medical and scientific fields.
Quick Response Codes
The QR code is the industry standard for 2D barcodes. It is a matrix barcode with 2D data that can contain binary, alphabetic, and numeric data. Asset management in retail stores, research labs, and warehouses can benefit from the flexible usage of QR codes.
After downloading the appropriate programs for reading various code types, QR codes can also be read using your Smartphone, tablet, and other electronic devices.
When to use RFID?
Multiple products can be scanned at a time
Wish to accelerate and reorganize your procedures
Money to invest in a more complicated solution
Numerous comparable products in bulk, import, store, and ship
A medium- to large-sized company
Take a look at automating more of your scanning duties.
Track each product individually and require a high level of security
When to use Barcodes?
Need to perform individual scans each time
Product stores are close to one another
No requirement to monitor every product
Easy, affordable, and universal solution
There is no need for more security
Advantages of RFID Over Barcodes for Warehouses
Scan multiple tags at once & No line of sight is required
RFID tags may be read in bulk and do not require scanning in line of sight. A fixed position RFID reader on a Bay/Dock door may more quickly enter each item into inventory without manually scanning each barcode label. Staff members may take faster and more frequent stock counts thanks to RFID labeling.
Increased durability
RFID tags can withstand harsh conditions, which include high temperatures and chemicals. It is simple to peel off or lose barcode labels. An RFID label can also be combined with a barcode label and printed with information humans can read.
Increased productivity
Once RFID technology is used, productivity advantages are significant since RFID tags can quickly scan hundreds of titles. While barcodes must be scanned one at a time and take much longer to process, inventory checks can be finished in seconds or minutes.
Locating lost stock can also be made easier with a mobile RFID portable gadget. Barcodes would not be as helpful as RFID in helping to find these products if the stock was accidentally placed in the wrong location.
More data and secure
In general, the amount of information stored in a barcode is limited. The amount of data that can be stored on an RFID tag is up to 100 times more, and it can include a wide range of important details, including the batch and origin of the goods, serial numbers, and expiration dates.
You can obtain Read tags that will enable data gathering for real-time supply chain location, shipment history, maintenance, recall events, and other product information.
Final thoughts
When we are talking about large warehouses, then RFID is more beneficial and seamlessly helps with automation, however, it is slightly more expensive than a barcode. Having said that, it is always worthwhile to examine both technologies and assess the benefits and drawbacks, whether you plan to use barcodes or RFID in your project.
You can also get in touch with their experts, who can advise you on the best option for your needs and offer prices for the system.